It was the discovery of Emily's poetic talent by her family that led her and her sisters, Charlotte and Anne, to publish a joint collection of their poetry in 1846. Owing to the prejudices on female writers, all three used male pseudonyms, Emily's being "Ellis Bell".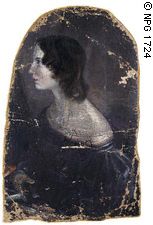 She subsequently published her only novel, Wuthering Heights, in 1847 - a powerful, poetic work, but whose innovative structure somewhat puzzled critics. Although it received mixed reviews when it first came out, the book subsequently became an English literary classic.
Like her sisters, Emily's constitution had been weakened by their harsh life at home and at school. She died on December 19, 1848 of tuberculosis, having caught a chill during the funeral of her brother in September, and was interred in the Church of St. Michael and All Angels family vault, Haworth, West Yorkshire, England.
Emily was a woman of remarkable force of character, reserved and taciturn.
Contents [hide]
1 References
2 Further Reading
3 See Also



References
This article incorporates public domain text from: Cousin, John William (1910). A Short Biographical Dictionary of English Literature. London, J.M. Dent & sons; New York, E.P. Dutton.

Further Reading
A Life of Emily Brontë, Edward Chitham
Heretic, Stevie Davies
Emily Brontë, Katherine Franks
The Brontës, Juliet Barker
Emily Brontë, Winifred Gerin
The Brontës' Web of Childhood, Frances Ratchford
Gondal's Queen, Fannie E. Ratchford
The Birth of Wuthering Heights: Emily Brontë at Work, Edward Chitham
Emily Brontë, Charles Simpson
In the Footsteps of the Brontës, Ellis Chadwick
The Oxford Reader's Companion to the Brontës, Christine Alexander & Margaret Smith

See Also
Walterclough Hall

Copyright (C) 2000,2001,2002 Free Software Foundation, Inc. 51 Franklin St, Fifth Floor, Boston, MA 02110-1301 USA Everyone is permitted to copy and distribute verbatim copies of this license document, but changing it is not allowed.