Anne Brontë (January 17, 1820 – May 28, 1849) was a British author, the youngest of the trio of famous Brontë sisters who wrote acclaimed Victorian romantic novels of manners and society.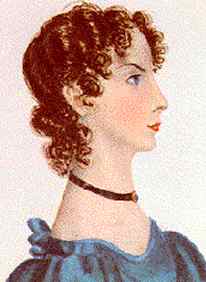 She was born in the village of Thornton, Yorkshire, England, the youngest of six siblings. Anne's mother died a year later, after the family had moved to Haworth where her father was perpetual curate. Much has been said about the influence of this death on her and her siblings and how it may have affected their writings. Two of her sisters, Charlotte and Emily, were also authors and poets. Anne's poetry was published, along with that of her sisters, in 1846, under the pseudonym "Acton Bell".
Her novels are:
Agnes Grey, published 1847
The Tenant of Wildfell Hall, published 1848
She died at the seaside resort of Scarborough, England, which was also the setting for both of her novels. She was buried at Saint Mary's Churchyard, Scarborough. She had been in Scarborough for only a few days, having been sent there in the hope of curing her tuberculosis — an illness from which her brother, Branwell Brontë, and three of her four sisters had already died.
[edit]
References
This article incorporates public domain text from: Cousin, John William (1910). A Short Biographical Dictionary of English Literature. London, J.M. Dent & sons; New York, E.P. Dutton.
[edit]
Further Reading
Anne Bronte, Winifred Gerin
A Life of Anne Bronte, Edward Chitham
The Brontes, Juliet Barker

Copyright (C) 2000,2001,2002 Free Software Foundation, Inc. 51 Franklin St, Fifth Floor, Boston, MA 02110-1301 USA Everyone is permitted to copy and distribute verbatim copies of this license document, but changing it is not allowed.